About Pettit Law Office
Put Over 100 Years of Experience on Your Side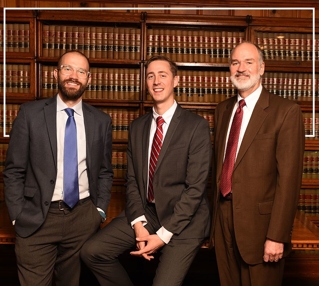 Pettit Law Office offers over 100 years of combined experience settling and litigating personal injury cases. Above all, we strive for compassion and justice in everything we do. We know that the issue that brings you to our office can cause frustration and pain for years to come – that is why our lawyers and paralegals always approach every case with compassion.
We also recognize that pursuing justice is not always the easiest road. At Pettit Law Office, we are ready to see your case through. We believe in putting in the extra work to make sure you are positioned for success every step of the way. In addition to personal injury, our firm practices workers' compensation and estate planning.
To get started on your case with a free consultation, give us a call at (417) 222-6640 or contact us online.
Why Choose Pettit Law Office
When you retain Pettit Law Office, you have direct access to the same attorney from start to finish. Our lawyers work closely with each client and provide personalized attention every step of the way. Since 1957, we have been serving Aurora, providing reliable and effective counsel to the injured victims of negligence.
Clients in the region continue to choose Pettit Law Office because we:
Have a long track record of successful case results
Offer Spanish services
Are backed by more than 100 years of combined legal experience
Are family owned and operated
Our Approach to Personal Injury
When we take on a new case, we make a point to listen carefully to your story and to perform a thorough investigation into the incident. Our attorneys are skilled at uncovering the evidence needed to build a strong case on our clients' behalf.
To avoid the tribulations of litigation, we strive to settle cases favorably with skilled negotiations. Of course, if a settlement is not possible, we are always prepared to go to trial. Our attorneys have extensive trial experience to put to work for you.
Request a free case evaluation from Pettit Law Office today. Contact us online or at (417) 222-6640.